Nicole Schuck, Detail river snail, graphite and pencil on paper, 42 x 29.7 cm, 2023
verdriften und festsitzen
NICOLE SCHUCK
drifting and stuck – Macrozoobenthos of the Elbe and other aquatic animals of the North Sea
Welcome by Ingrid Bussmann, 1st Chairperson, Thorben Brackmann, Mayor of Lauenburg/Elbe and Marita Landgraf, Artistic Director.
Opening:
Sunday 16. July 2023 – 3.00 p.m.
Exhibition at the Stadtgalerie Künstlerhaus Lauenburg and in the city space
16 July – 10 September 2023
with a lively accompanying programme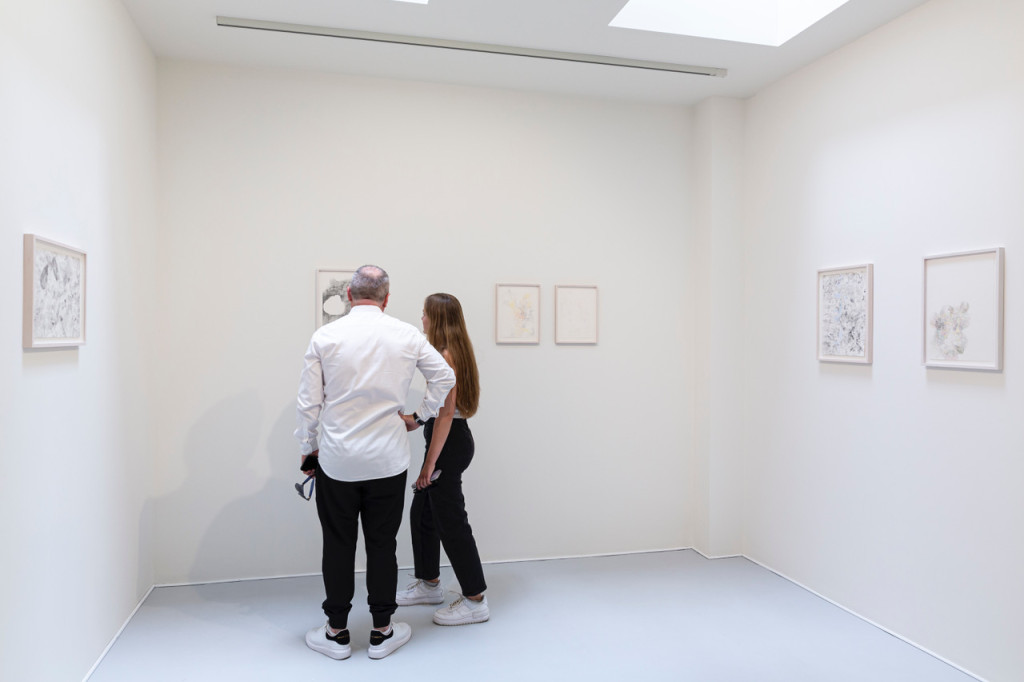 Nicole Schuck, verdriften und festsitzen, exhibition opening Stadtgalerie Künstlerhaus Lauenburg 2023 – Photos: Dirk Eisermann
Maintaining and sharing natural habitats to ensure survival and biodiversity requires a balance between humans and wildlife. The mass extinction of species and the consequences of climate change, among other things, show that this balance has long been off. Only we humans can change this and reintroduce a different, caring way of dealing with nature. This is where Nicole Schuck's work comes in. With her drawings, she wants to sensitise us to our own living environment, its inhabiting organisms and a deeper appreciation. In doing so, she asks questions: How can we succeed in sharing these narrow living spaces with each other and making them worth living in? How can a social and just interspecies coexistence be built?
For the exhibition and a flag installation in the public space of Lauenburg, the artist has started researching the Elbe habitat, focusing on the macrozoobenthos. This group of organisms includes all invertebrates that are still visible to the naked eye. They provide information about the ecological quality of flowing waters. The basis of the resulting drawings, installations and sound work is formed by in-depth local research, field recordings and scientific research results. In this way, Nicole Schuck enables the Elbe and its inhabitants to be present, even beyond the surface of the water, and to bring them into our consciousness. The sounds from inside the Elbe are transmitted into the exhibition space and can be heard live at the opening and finissage.
These new works are interwoven in the exhibition with drawings of the European lobster and the European oyster, the basis of which is a research stay on Helgoland, as well as the close exchange with scientists from the Alfred Wegener Institute, Helmholtz Centre for Polar and Marine Research (AWI).
Biographical information:
Nicole Schuck studied Visual Communication with a focus on drawing at the University of Applied Sciences Bielefeld as well as Fine Arts at the Berlin University of the Arts and the Braunschweig University of Fine Arts, where she graduated in 2004. Since then she has been working as a freelance artist. Her projects focus on wildlife, natural and urban habitats, ecology and nature conservation. Transdisciplinary exchange and collaboration with interested parties is an important part of her projects. Since 2017, she has been working specifically on ecosystem services and further values of marine animals.
Nicole Schuck was a scholarship holder at Künstlerhaus Lauenburg in 2009. She has received further scholarships, grants and prizes from e.g. Stiftung Kunstfonds, Bonn; Senatsverwaltung für Kultur und Europa, Berlin; Alfred Wegener Institute, Helmholtz Centre for Polar and Marine Research (AWI), Bremerhaven, in cooperation with the Hanse-Wissenschaftskolleg (HWK), Delmenhorst and others.
An installation with 21 flags
by Nicole Schuck, 2023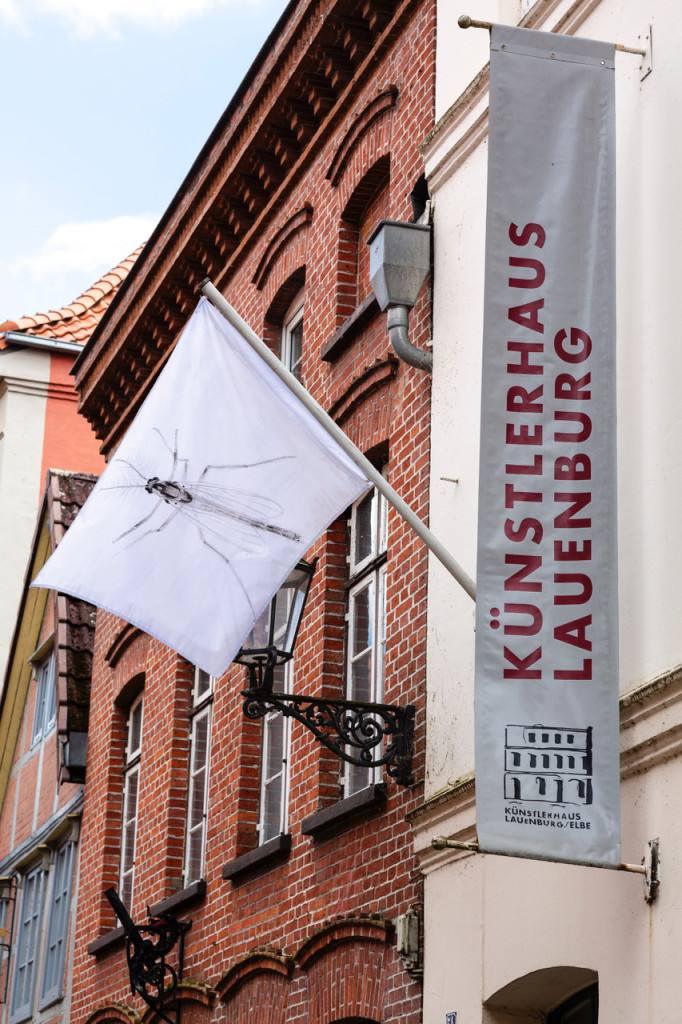 Nicole Schuck, verdriften und festsitzen, exhibition opening Stadtgalerie Künstlerhaus Lauenburg 2023 – Photos: Dirk Eisermann
The artist's hoisting and insertion flags, printed with her drawings of macrozoobenthos of the Elbe, can be discovered in Lauenburg's urban space and at the Künstlerhaus Lauenburg. They refer to the lively life in the Elbe.
The flags are exposed day and night to the climatic conditions, which are inscribed in the fabric. This will fray over time and change the colours: An allegory of the ecosystem, which is permanently subject to both positive and negative influences that show their effects in the long term. To the website of the artist
Flyer with location plan of the 21 flags as PDF (German) to Download
---
Thanks to:
The exhibition is supported by
NEUSTARTplus funding is made possible by the NEUSTART KULTUR programme of the Federal Government Commissioner for Culture and the Media.