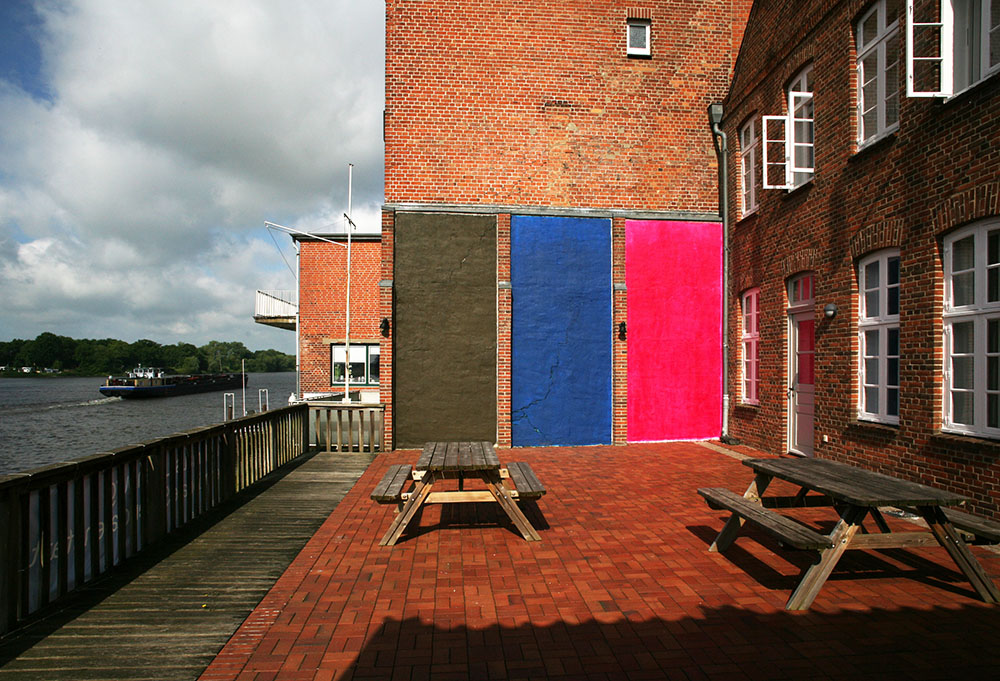 Anja Gerecke, elv farben, Exhibition view Künstlerhaus Lauenburg, 2017
LOCATION
ARTISTS' HOUSE
With over 600 square metres of floor space, the Künstlerhaus Lauenburg has four spacious studio and living rooms, a foyer with an artists' bar, an open studio for workshops and a terrace directly on the Elbe.
---
KÜNSTLERHAUS
Stadtgalerie Künstlerhaus Lauenburg
GALERY & Common room
On the ground floor of the Künstlerhaus are the exhibition rooms of the Stadtgalerie Künstlerhaus Lauenburg with direct access to the Elbe terrace. Between the gallery and the living/working area of the fellowship holders is a common room that is open to all visitors and interested parties. Exhibitions, concerts and readings take place here.
---
KÜNSTLERHAUS
Christian Helwing, Double blind, Exhibition view Künstlerhaus Lauenburg, 2016
Künstlerhaus and ELBE TERRACE
With over 100 square meters and a southwestern view over the river Elbe, this large terrace behind the Künstlerhaus offers an extraordinary ambience for events of all kinds. The annual jazz concert on the terrace in July is a special highlight. But also, numerous artists use the terrace again and again to present work in an outdoor space.
---
KÜNSTLERHAUS
Studios, Apartments and Elbe Terrace Künstlerhaus Lauenburg
STUDIOS & APARTMENTS
There are four artists' flats on the two upper floors of the Künstlerhaus, three of which have large studios for various areas of the visual arts, and one of which is a studio with an adjoining office workspace in the scholarship holder's library. The flats and studios are fully furnished on approximately 80 square metres and, in addition to a telephone and DSL connection, have their own shower bathrooms and kitchens. Studio 2 also has all the technical equipment needed for printmaking.
---
KÜNSTLERHAUS
Künstlerhaus Lauenburg, Elbstraße – Photo: Marcel Stammen
RENTING
The Künstlerhaus and the studios can be rented outside the fellowship period from November to April by individuals, conferences and working groups from the artistic and cultural scenes. The studios and apartments are for rent, as well as the gallery and bar space, for undisturbed work, meetings and events.
Download the current terms of use and the contract of use.
Nutzungsbedingungen
Nutzungsvertrag
For inquiries, please contact Gabriele Kamin at: belegung@kuenstlerhaus-lauenburg.de