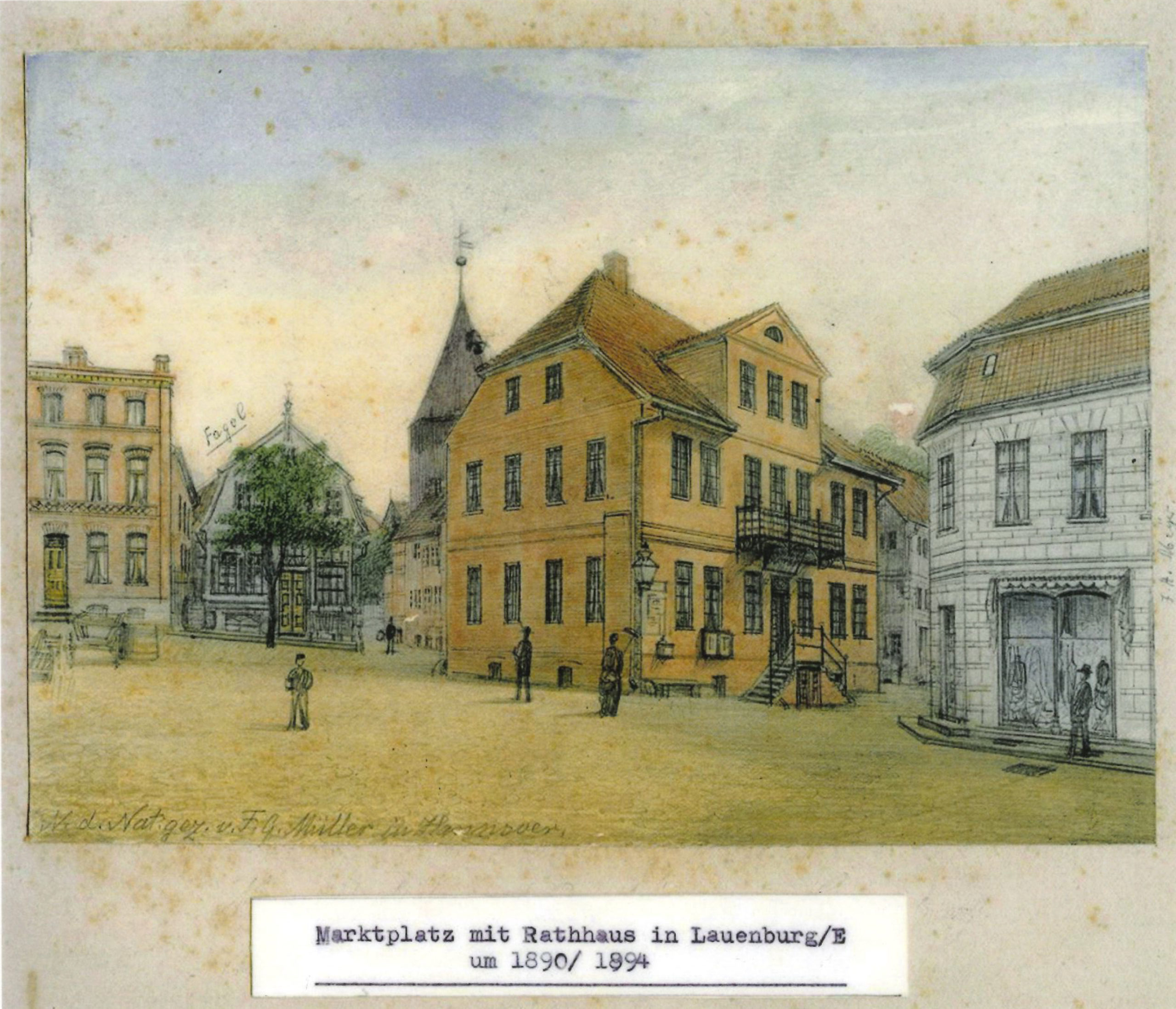 Elbstraße 52, Market Square Town Hall 1890-94 provided by Franz Hitzler
HISTORY
THE HISTORY OF THE
CITY GALLERY
The Stadtgalerie Lauenburg, which opened in 2011, is one of four galleries for contemporary art in Schleswig-Holstein. Until 2016, it offered emerging artists and artists' groups – some of them former fellows of the Künstlerhaus Lauenburg – a place in the former Hagenström department store to try out new artistic formats and present current works to the public. Since 2017, the Stadtgalerie Lauenburg has focussed on site-specific temporary projects in public areas, which are created specifically for Lauenburg's urban space.
In October 2021, the Künstlerhaus Lauenburg will acquire a permanent extension: the "Stadtgalerie Künstlerhaus Lauenburg". In the annexe of the Künstlerhaus fellows' residence at Elbstrasse 52, extensive renovation and modernisation measures will create up-to-the-minute exhibition spaces that will showcase an ambitious contemporary exhibition program in keeping with the cultural mission of the Künstlerhaus Lauenburg.
In conjunction with the new gallery areas, the modern development design includes the restoration of the historic exterior façade and will complete the restoration of the overall ensemble Market Square – Elbe Shipping Museum – Maria-Magdalenen-Church. The original store entrance, open to the Old Market, will be restored on the first floor as part of the reconstruction. The structural measures include the reopening of a historic passageway between the houses at Elbstraße 52 and 54. In the future, this will provide an internal passageway between the exhibition spaces in the Künstlerhaus to the gallery areas in the Stadtgalerie and unite these areas. In addition to the gallery, a welcoming foyer and event rooms for art education will be created in the new wing.
The conversion will create a special opportunity to present new art in a historical environment. The unity of working, living, exhibiting, educational work, information, events and café-bar operation will be a flagship development for the region, both from an artistic and architectural-urban planning point of view. The new Stadtgalerie Künstlerhaus Lauenburg will boost Lauenburg's tourist potential in the Sachsenwald-Elbe region.
In this context, the restoration of the façade of Elbstraße 52, the simultaneous opening to the market and the concise interior design are of particular importance.
Historical photos from the municipal archive – 1. Hagenström, 3. Elbstaßenidylle